What is the order process in Suyzeko Store ?
Suyzeko is a leading manufacturer for health beauty benefit equipment, widely used in hospital, clinics, physiotherapy centre, rehabilitation centre, beauty salon, spa ect. Suyzeko equipments have enjoyed a good reputation in the medical field home and abroad.
Main products including,but not limited to :
Photobiomodulation helmet For Brain Disorder ( Stroke, Parkinson, Alzheimer, Mental Illness)
Laser Watch for Hypertension and diabetic treatment
Infrared Red Led Bed For Fat Loss Beauty Care Rehabilitation
Led Light Therapy Pad/panel For Muscle Healing/Bone Repairing
Led Face Mask For Skin Rejuvenation
Ultrasound/Tecar/Shockwave For ED/Cellulite Reduction
Hydrogen /Oxygen Inhalation Machine For Health Care
Since the products we sell are very professional and of high value, also some equipments really big in package and heavy in weight, so the shipping cost to aboard is really high. If some buyers place the order randomly without enough research and consideration or comparison , when they receive the item and find our machine not the item they really want and then want to return the machine. This will create unnecessay convenience, not only will consume both the buyers and seller's time and energy, but also waste money for both of us for the high shipping cost. Enough research and comparison are highly recommened before placing the order to prevent this unconvenience happened. Here we would love to get you acquainted with order procedure of placing order in our website.
There are mainly 9 steps , just a few clicks you can place the order in our website.
Step 1: Own a PayPal account, if you have one Paypal account already, just ignore it. If you do not have Paypal account, don't worry , you can apply for one easily , just prepare one email address.Please go to website https://www.paypal.com/us/webapps/mpp/account-selection to apply one . After creating Paypal account, you can bond your credit card or debit card. There will be a simple verify process before your Paypal account is activated and then you can use your Paypal to pay and receive money.
Step 2: Put the item on the shopping cart,If there are many options for the item, please choose an option, and then add on shopping cart.
Take the laser watch as example, choose " Whole Set"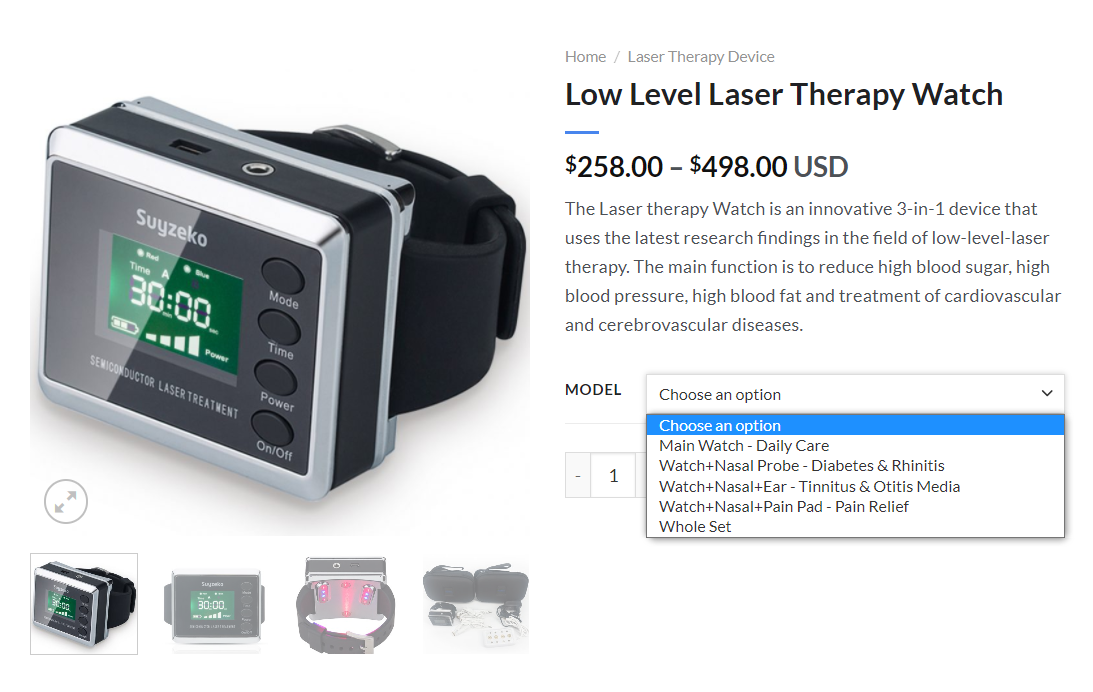 Step 3: After choosing the option, it will automatically jump to below page , and then click " PayPal" , it will lead to your Paypal account to do the payment.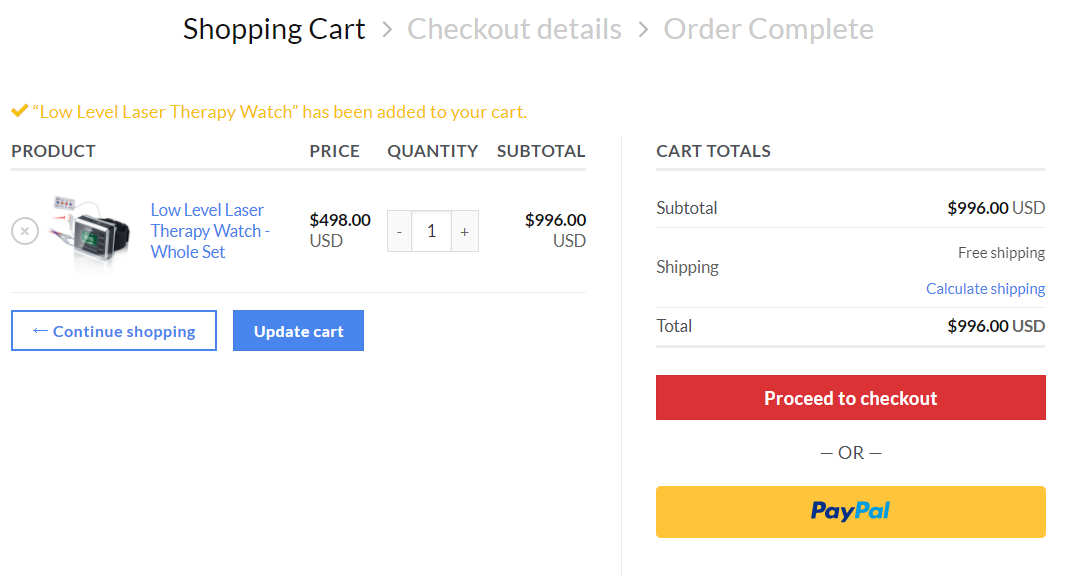 Before making the payment, please notice that Billing first name, billing last name, Billing street address, Town/City, Zipcode, phone number and E-mail address are all required fields. Attention please it is a must to leave your phone number, which is required by all Express company, such as Fedex, DHL, Ups , TNT to ensure the right item reach to the right recipients properly and safely. Some buyers will has some concern about the disclosure of personal's phone number, here we must assure to all our buyers that all your personal information will be definitely kept in our company and the shipping company and will not disclose to any unrelative third party. Therefore, just be confidence to leave your phone number, otherwise we can not further proceed the order.
Step 4 , Once the second you complete the payment, you will receive one notice email from Suyzeko , titled "Your Suyzeko order has been received!", there are order number, order item, order amount, and delivery address , recipient's address, name, phone number ect. All necessary information can be found on the confirmation email which is generated and sent by the Suyzeko system automatically.
Step 5: After placing order, you will receive one Email confirmation within 24 hours from Suyzeko Staff who will follow your order throughout, from arranging the shipment, giving order tracking number, tracking the package, following up the using feedback, to after-sale service.
Step 6: After Suyzeko staff confirm with you about the order and delivery address, Suyzeko staff will arrange your order and ship by Fedex or DHL. You will get an informed email about the package tracking numbers within 2-3 working days.
Step 7: After Suyzeko Staff informing you the tracking number, it usually takes about 8-10 days for the goods to arrive you. At that time, please pay attention to your phone call and in case of missing any delivery call.
Step8: After receiving the package, please kindly check the item whether they are in good conditions. If you have any doubt about the operation of the machine, just feel free to contact Suyzeko staff. If you find something wrong with the machine, please send picture or send video to the Suyzeko staff to check and solve it.
Step 9:After-sale period. All Suyzeko product warranty is one year, during which timeframe we are responsible for all the product failures that are not caused by human error. If you come across any product failure within the warranty period, please contact Suyzeko staff for help. Even out of the warranty period, Suyzeko provide paid after-sale service to fix the machine. If you have further demand for other products, you can also contact Suyzeko Staff to help you organize the order. We will have special discount for our existing buyers.
We sincerely wish you have a happy shopping experience with us.