Shockwave therapy is a modality that is becoming more common in physiotherapy. Using a much lower energy than in medical applications, shockwave therapy, or extracorporeal shock wave therapy (ESWT), is used in the treatment of many
musculoskeletal conditions, primarily those involving connective tissues such as ligaments and tendons.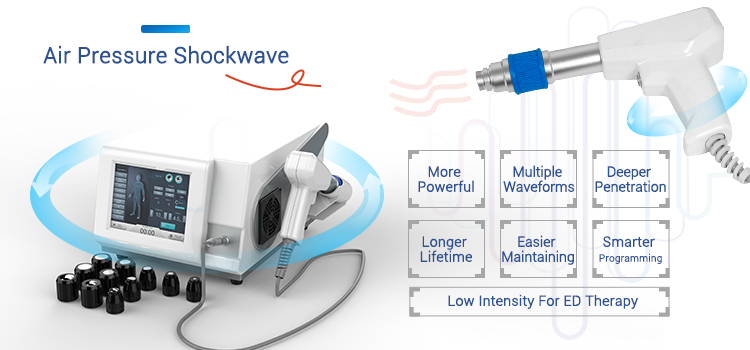 Specifications:
| | |
| --- | --- |
| Item model | ESWT-KPB |
| Frequency | 1-21Hz |
| Energy | 0.5-6 Bar |
| Package weight | 28kg |
| Package size | 58*46*38cm |
| Power | 200W |
| Touch screen | 8 Inches |
| Treatment tips | 11pcs, 5pcs flat form, 3pcs radial form,3pcs focus form |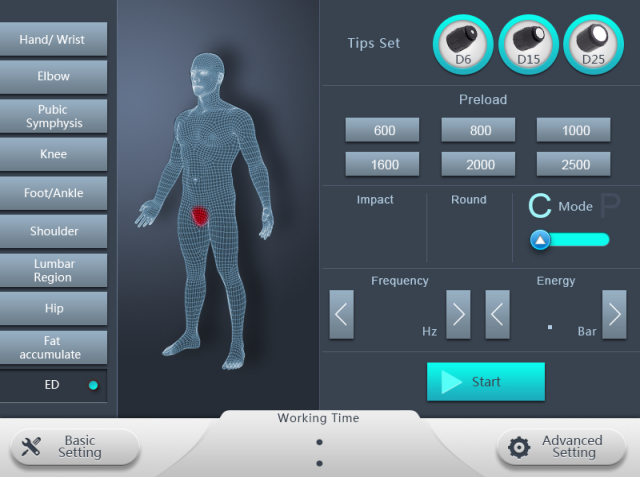 shock wave therapy equipment Features
1. The human engineering design provides setting and operates conveniently;
2. 5 inches color crystal Chinese and English touch screen design, intuitive and clear;
3. Import power source, to ensure instant shock output effect;
4. Surge pressure and frequency selection, conform to treatment demand;
5. The ultra-silence air compressor is built-in accessories collection box;
6. Single or dual output is optional, and provides a various professional probe;
7. There are 5 adjustable preset reference solutions;
8. Adopt a portable design.
Treatment function :
Physiotherapy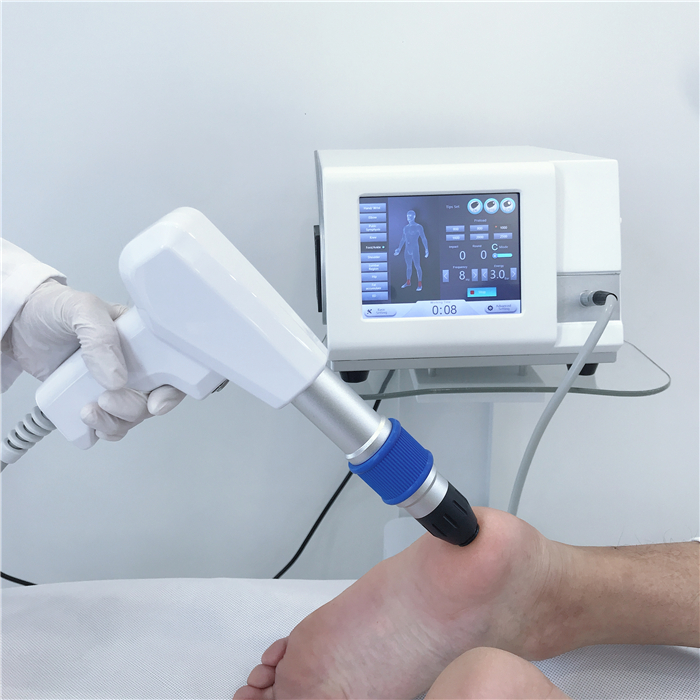 Shockwave therapy is a multidisciplinary device used in orthopaedics, physiotherapy, sports medicine, urology and veterinary medicine. Its main assets are fast pain relief and mobility restoration. Together with being a non-surgical therapy with no need for painkillers makes it an ideal therapy to speed up recovery and cure various indications causing acute or chronic pain.
Treatment:
1. Tennis elbow
Painful inflammation of the tendon attachment on the lateral elbow
2. Shoulder pain with or without calcification
Painful limitation of shoulder movement
3. Golfer's elbow
Painful inflammation of the tendon attachment on the medial elbow
4. Bursitis trochanterica
Painful periostitis of the hip
5. Patella tip syndrome
Inflammation of the tibial edge due to excessive strain
6. Tibial edge syndrome
Inflammation of the tibial edge due to excessive strain
7. Achillodynia
Painful irritation of the achilles tendon
8. Painful heel
Painful,mostly chronic inflammation of the heel
9. Inflammation of the tendon attachment
Painful inflammation of tendon attachments due to overexertion or improper strain,or due to degenerative processes
10. Acupuncture points
Pain therapy through that treatment of acupuncture points
11. Painful trigger points
Acute and chronic pain in the back, shoulder, neck, etc.due to permanently shortened and thickened muscles
Cellulite treatment :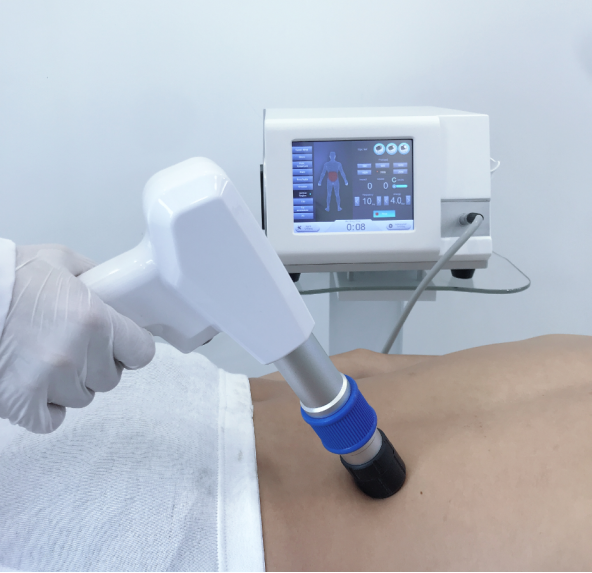 Shock wave is a powerful and effective treatment in reducing cellulite, tightening and firming as well as smoothing of the skin. shock wave can be used as a standalone application or in cunjuction with other fat removal or skin tightening treatments to accelerate results.
How Shockwave therapy works?
Treatment is non-invasive, kind to the skin.
Radial Pressure Waves break down fat cells and restore flexibility to connective tissue. Increased blood supply speeds up removal of waste products from fat cells. Blood flow is improved, allowing waste fluids to drain. Shockwaves stimulate activity within the cell, resulting in tighter, smoother looking skin. Skin and connective tissue tighten and regain their natural elasticity.

Treatment Feaures
Many parts of the body can be treated
No rest period required after treatment
One session typically lasts 30 minutes
Visible results in just a few sessions
No pain, no anaesthetic
ED treatment
Most men suffering from erectile dysfunction have vascular problems affecting the vessels that supply blood to the cavernous bodies of the penis, resulting in a decreased ability to develop and maintain an erection.
Shockwave Therapy for ED of this type can be a highly effective treatment. The shockwaves are focused onto the area to be treated creating new blood vessels in penile tissue, enabling patients to achieve and maintain firm spontaneous erections.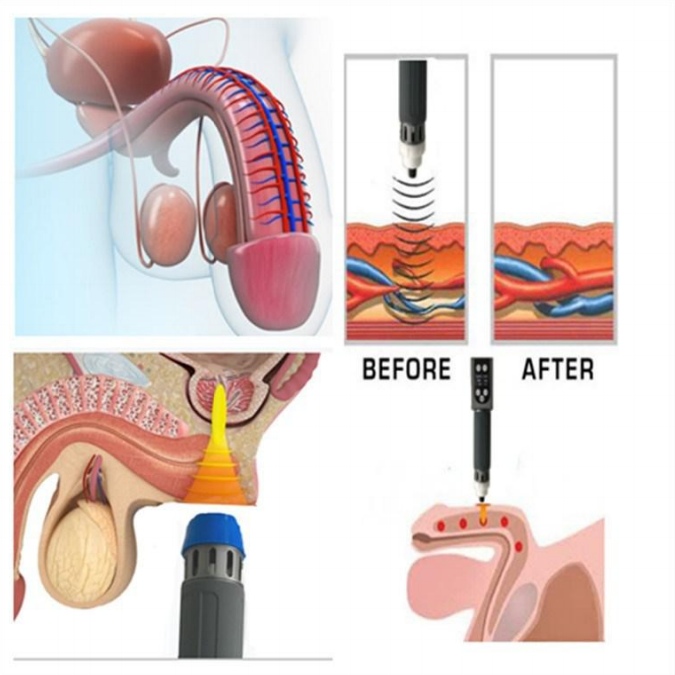 Target to spongy tissue in 5 different areas.
300 impacts per area , total 1500 impacts in one treatment.
Twice a week, treat consistently for 3 weeks, then stop for 3 weeks, And start next course.
Should be more impacts at the top end of penis, and Less impacts at the bottom of penis. Vascular-related ED problems rather than just treating the symptoms.
Accessories: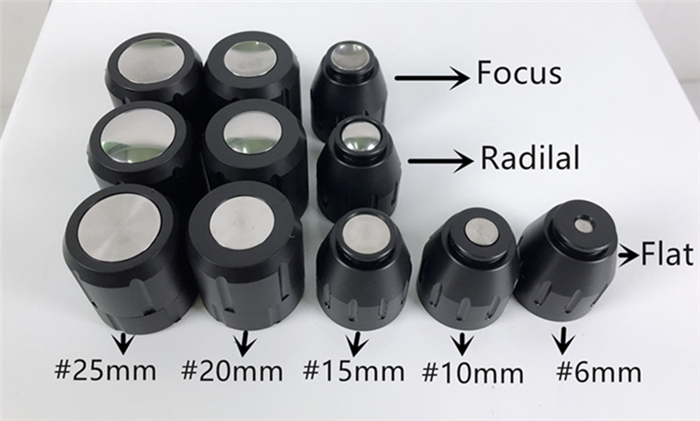 Package