This item is three connected led pads by magic velcro, which gives you the wide range of usages.

Product parameters
Product Parameters
Product Name
Big Infrared Red Phototherapy Pad
Product Model
GY-P11
Infrared Wavelength
850nm
Red Wavelength
660nm
Input Voltage
100-240V AC, 50-60Hz
Output voltage
12V
Input Current
9.9A
Output power
118W
Led number
600pcs
Product Functions: 
Perfect wavelength combination 660nm+850nm, excellent effect for weight loss, skin care, and physiotherapy pain relief.
Weight loss:
The light energy can penetrate the skin and reach the subcutaneous fat layer. It acts on fat cells through specific wavelengths,power and frequencies. When sufficient energy is absorbed, the permeabili-ty of the fat cell membrane will change. At the same time, it causes the cell's biochemical reaction and triggers the release of lipase, which can break down triglyceride (the main ingredient of fat cells) into fatty acids and glycer-ol molecules. These small molecules can cross cell membranes and enter interstitial tissue. They can then participate in the body's metabolism cycle and be processed and consumed naturally. Fat cells shrink significantly, which leads to the shrinkage and removal of cellulite on a macro scale. Therefore, fat-concentrated areas such as hips, abdomen, thighs, and arms can safely, quickly and effectively reduce fat.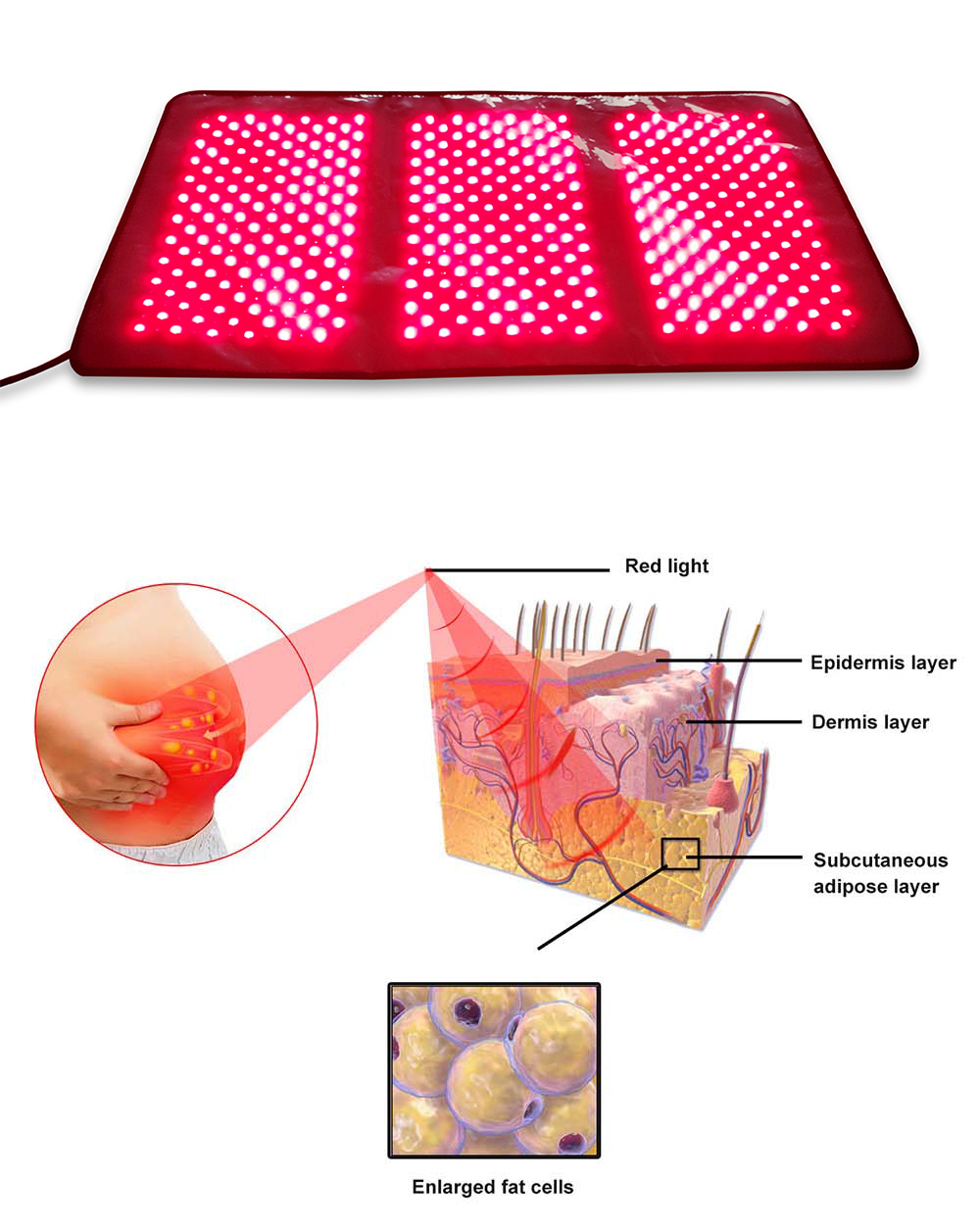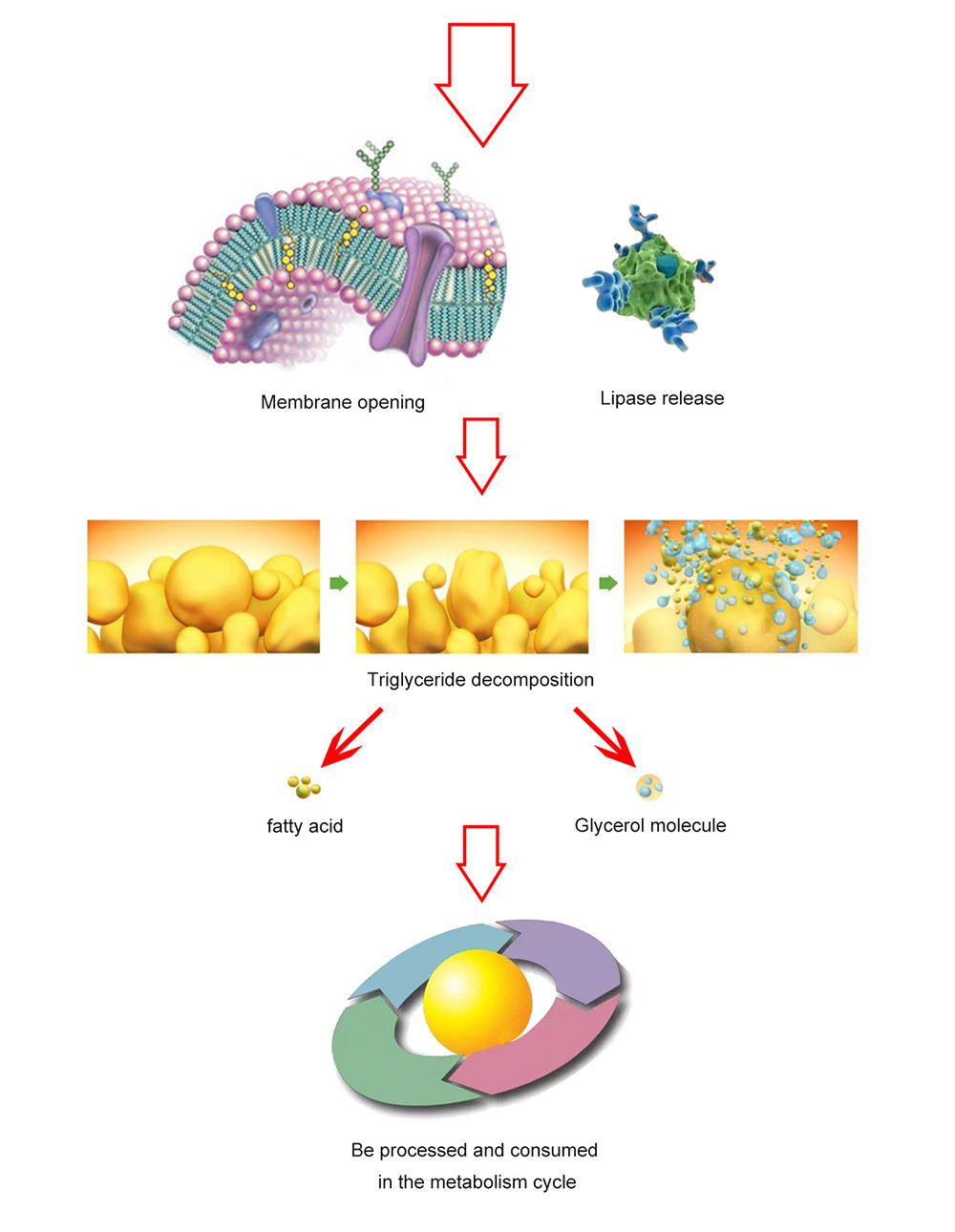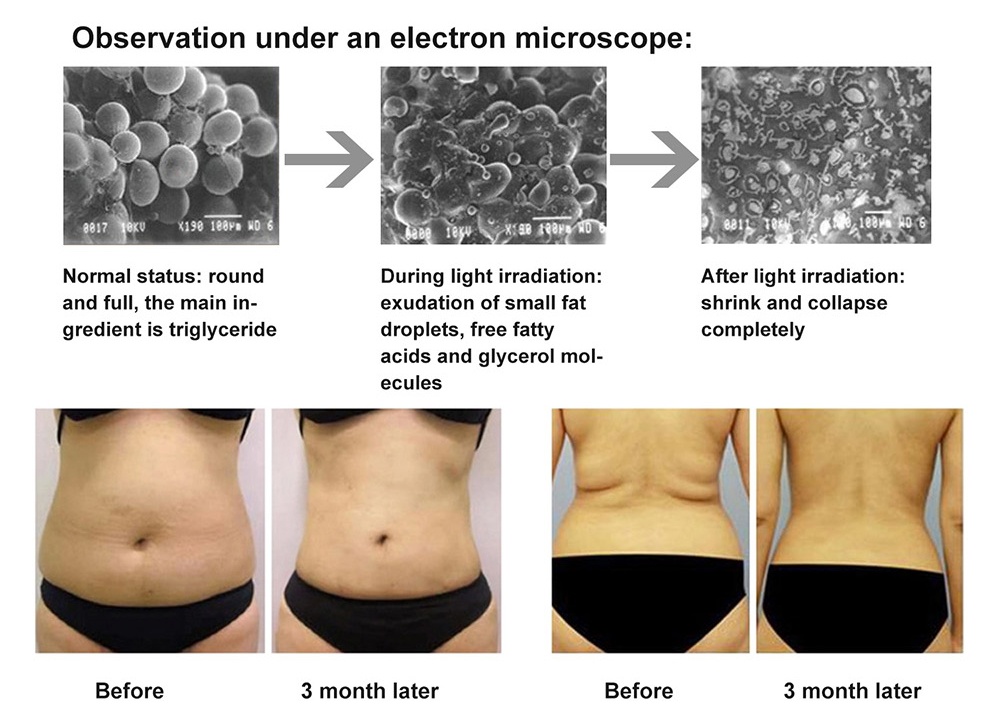 Skin Beauty
Red light can also stimulate collagen and elastin production in fibroblasts. They play a very important role in improving skin health. The treatment can remove wrinkles, treat acne, whiten skin, enhance elasticity and moisturize.

Pain relief :
660 + 850nm can be used for pain relief, muscle healing and bone repair. Cells with more ATP can function more efficiently to heal, regenerate and repair damage.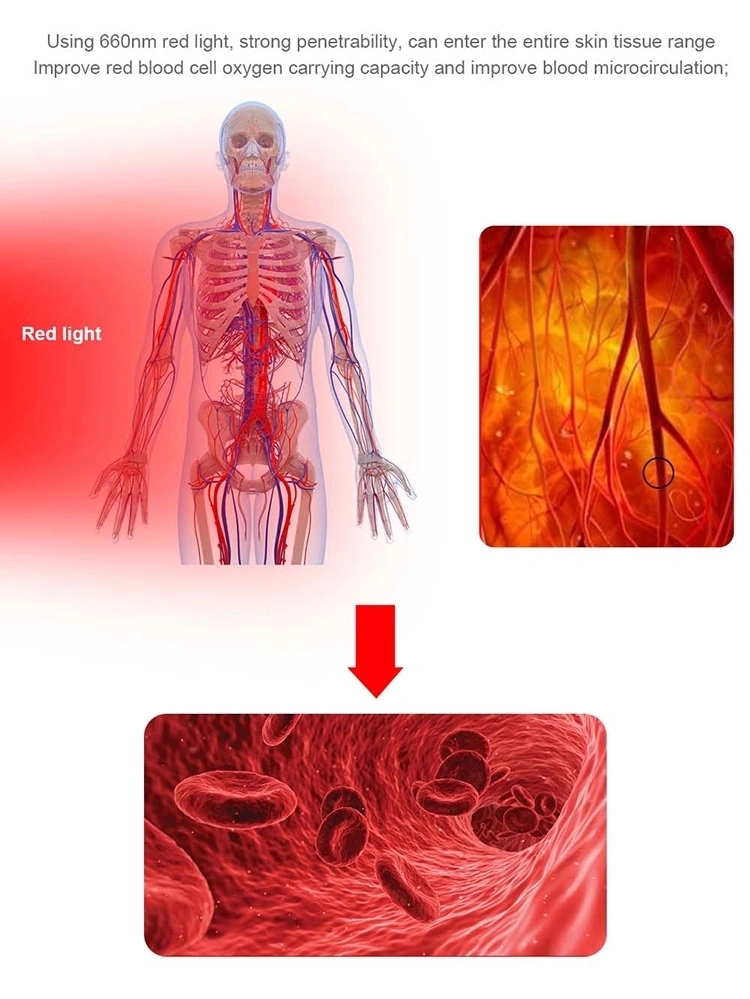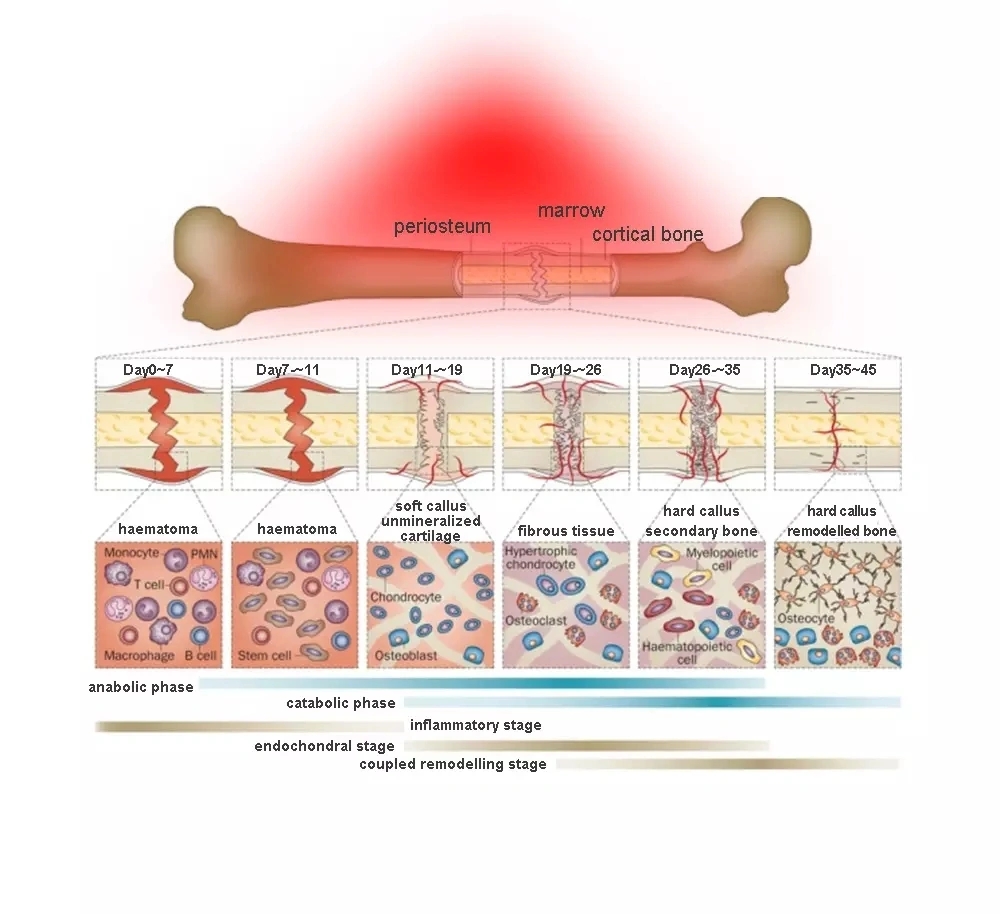 Working Principle:
Depending on the different wavelength combinations, red light therapy works and it is not only specified for skin beauty and fat loss, but also muscle healing or bone repair, even for disorders and infections. Because this can be more effective in several other health complications. It is important to be known on which principles or rules this therapy is based on because this will let everyone be efficient, and results of light therapy. Red light therapy machine is low-level energy light to relax and strengthen blood capillary, which also can promote blood circulation, oxygen and increase to accelerate the detoxification effect. It is mainly used for subcutaneous tissue cell mitochondria, efficient biological photochemistry reaction, enzymatic reactions and activation of mitochondrial cytochrome oxide enzyme C, producing more energy to accelerate DNA, RNA synthesis, especially fiber cells, in tissue repair.
The function of 660nm red light:
There is an abundance of literature outlining the benefits offered by the 660nm wavelength. Penetrating just a little deeper than the 630nm wavelength, the 660nm reaches into the entire range of the skin tissue to promote healing and regeneration.
Some of its diverse benefits include:
Reduced training fatigue: The 660nm wavelength teamed with the 830nm near-infrared wavelength has been proven to delay the development of fatigue in the muscles, and enhance skeletal muscle performance. (Athletes, take note.)
Reduced inflammation: In a study investigating the effects of red light therapy on pleurisy, the 660nm wavelength was found to induce an anti-inflammatory effect.
Improved bone healing: The 660nm wavelength encourages resorption and formation in the bone cells around the location where repair is needed, without causing any change to the bone structure.
Reduced swelling following injury: In one study, the 660 nm wavelength was found to reduce both inflammation and swelling by reducing the number of inflammatory cells which lead to the formation of swelling.
Reduced neuropathic pain: A study investigating sciatic nerve pain in rats found that the 660 nm wavelength significantly helped to reduce pain.
Accelerated wound healing: The 660 nm wavelength has been proven to increase the formation of new blood vessels and enhance collagen deposition to help in the healing of wounds.
The function of 850nm infrared light:
The 850nm wavelength is the signature Platinum LED near infra-red wavelength. In many cases, the 850nm amplifies the benefits provided by the 810nm and 830nm wavelengths. This wavelength has a range of therapeutic applications such as:
Anti-inflammatory benefits: 850nm wavelengths can help to reduce joint and muscle pain and diminish general inflammation in the body.
Enhanced muscle recovery: A study observed the use of 850nm wavelengths on athletes, and found that usage of the near-infrared light increased muscle mass after training, and decreased inflammation and oxidative stress in muscle biopsies.
Healing of wounds in the skin: Lesions in the skin heal faster when exposed to 850nm wavelength light therapy.
Reduction of lines, wrinkles, and hyperpigmentation: 850nm can support the production of collagen, assisting with plumper, more radiant-looking skin, and a more uniform texture.
Orthodontics and tooth alignment: The use of the 850nm wavelength can foster the speedy realignment of teeth for patients undergoing orthodontics.
Product Displays :