The Cause Of Diseases 
Traditional Chinese medicine since ancient times has "all diseases from cold" said: "vacuity is cold, cold is wet, wet is coagulation, coagulation is stasis, blockage is tumor, tumor is cancer" to explain the cause and process of disease. Dampness and cold will lead to impassability of meridians, blood blockage, micro-circulation is not smooth, resulting in a variety of toxins in the body can not be discharged, it will form a kind of body disease. The source of all diseases is cold and damp constitution, and major diseases are accumulated little by little by small diseases. Being in cold physique for a long time will lead to insufficient qi and blood and impassability of meridians. "Cold is coagulation, coagulation is silt, silt is blocked, blocking is tumor." "Qi and blood are enough to eliminate all diseases." Only sufficient qi and blood, it is more conducive to the patenting of the whole body meridians, with sufficient qi and blood and smooth meridians, the body's zang organs can be well nourished and make the function strong.

How Does it works ?
There are many acupuncture points on the soles of the feet, which run through the blood and meridians of the whole body. When our feet sole place on the electrode of the machine, it will produce one certain frequency resonance energy wave which not only has alternating magnetic filed but also alternating electric field, it can penetrate and conduct stimulate acupoints on the feet, the metabolic channels of the meridians, blood vessels, cells, viscera, limbs and bones are completely opened.
This deep heat makes the local temperature of the tissue rise to 39-42℃, which directly causes the dilation of blood vessels and capillaries and the increase of blood flow, reaching 3-5 times of the usual, promotes the blood circulation of the whole body, speed up metabolism, clear away toxin, dredge meridians and lympht, stimulates nerve fiber cells, activates cell activity and endocrine, improves immunity, improves self-healing ability, removes dampness and cold through perspiration, clears up blockage, supports Yang and nourifies Yang.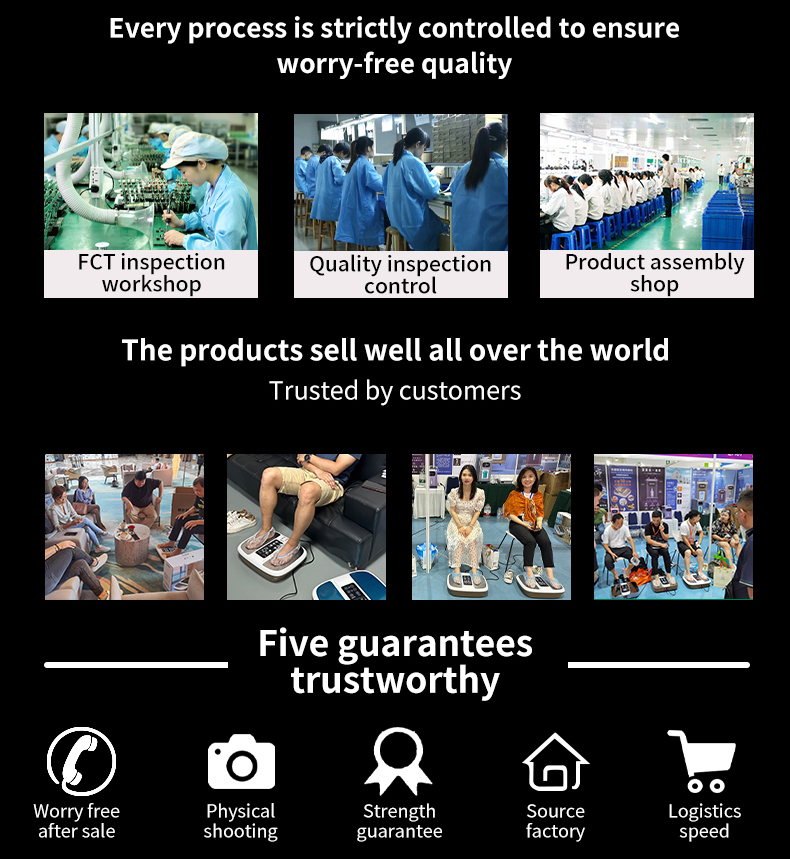 Suitable groups :
1)Various inflammations: gynecological inflammation, prostatitis, bronchitis, nasopharyngitis, frozen shoulder, mastitis, gastritis, enteritis, nephritis, etc.;
2)Various pains: shoulder and neck pain, rheumatic joint pain, low back pain, stomach pain, dysmenorrhea, headache, various neuralgia;
3)All kinds of stasis: Meridian blockage, lymphatic blockage, varicose veins and other body knots and cold-damp stasis blockage;
4)Rehabilitation physiotherapy for various cancer patients.