Suyzeko Ultrasound shock therapy for electrical muscle stimulation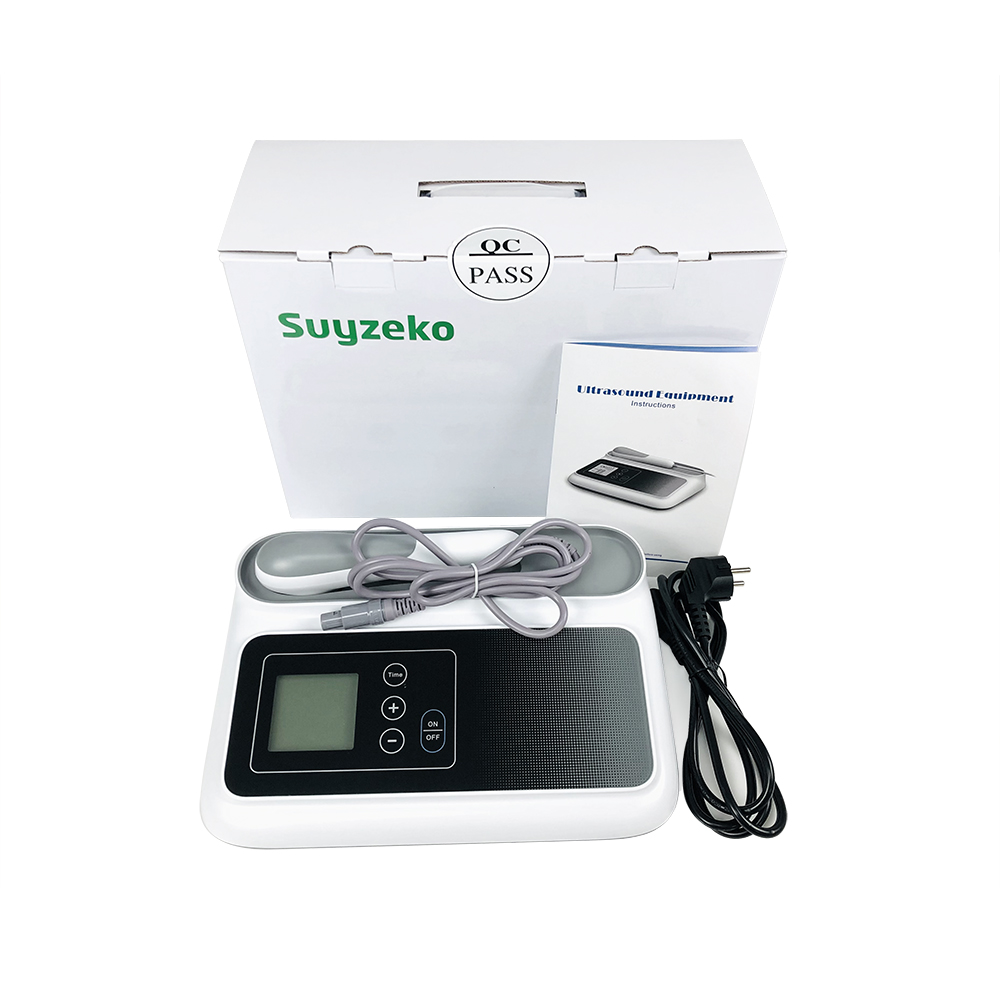 Technical advantages:
Low-power chips, digital signal generator, all-digital display, precise control, 1MHZ frequency output, security and stability, five-degree intensity, timer 5-30 minutes
Ultrasound therapy is a natural and green therapy. No injections, no medicine, deep treatment of the disease.
Benefits:
Using the characteristic of ultrasound, which is good permeability in body tissues, direction and superposed energy , and using the heat effects, mechanical effects and physical and chemical effects, etc., to release adhesions, the therapy can improve local lesion microenvironment, microcirculation promote metabolism and tissue nutrition. It is widely used for soft tissue injuries and chronic pain rehabilitative care.
Introduction of ultrasound 
Ultrasound, which is more than 2000Hz, is the mechanical wave that cannot make human hearing reflection. It is called "ultrasound therapy" that could be applied to human disease. The ultrasound which is over 0.8MHz-3.0MHz has treatment effects.
Design Features:
Large backlight LCD display, simple style atmosphere, noble and elegant.
Fashionable and smart appearance, full luxury
Humanized design, more fluid lines
Touch buttons, simple style, more durable
A new generation of ergonomically designed handle probe
Professional Physiotherapy Ultrasound Ultrasonic Energy Meter Therapy Machine For Body Pain relief
Therapeutic ultrasound is utilized for injuries related to most soft tissues, joints and muscle spasms. While it shares the same name, this ultrasound is not the same as that used diagnostically to screen the body internally.
Principle of Suyzeko ultrasound therapy
1. Mechanical function: the ultrasound has the "micro-massage" to the tissue substance and tiny cell. It could soften tissue, enhance penetration, improve metabolism, promote blood circulation, stimulate the nerve system and cells, and relieve pain.
2. Heating function: it forms heat during ultrasound therapy, so it is also called "ultrasound diathermy therapy". It is deep heating that penetrates below the muscle. Thus, ultrasound therapy is applied to chronic soft tissue pain, arthritis, and rheumatism.
3. Physical therapy function: based on the mechanical and heating function, it will trigger physical therapy.
a)Hydrogen ion concentration changes: inflammation tissue accompanied by acidosis phenomenon, the ultrasound can make the pH value changes to the alkaline so that the symptoms are reduced; good to inflammation repair.
b)Effects on enzyme activity: ultrasound can depolymerize complex proteins into common organic molecules, affecting the activity of many enzymes.
c)Under the action of high-intensity ultrasound, many highly active free radicals can be formed in the tissue. They can accelerate the redox process in the tissue and accelerate the growth process.
What is Therapeutic Ultrasound?
Ultrasound emits small sound waves at an extremely high frequency that is out of the range of human hearing. When applied to problem areas in soft tissues and joints, it produces heat that helps to reduce inflammation and increase blood flow, in addition to decreasing pain, stiffness, and spasms. Therapeutic ultrasound is also believed to have a positive effect on the healing process.
How Does Therapeutic Ultrasound Work?
While its effects and goals are different from ultrasound screening technologies, ultrasound therapy is implemented in the same way. The process may be familiar to you if you've ever had an ultrasound screening in the past.
An ultrasound emitting probe will be passed over your skin across the pain point or injury. We will apply ultrasound gel to your skin to reduce friction and allow for better transmission of the ultrasound waves. Despite the deep-­tissue heat applied during the therapy, you will feel little or no heat at all.
Parameters
| | | | |
| --- | --- | --- | --- |
|  Item name |  Suyzeko Ulatrosound energy meter |  Item nr |  CS01 |
|  Relative humidity |  20%-80% |  Ambient |  5-40℃ |
|  Power input power |  ≤25W |  Atmospheric Pressure |  80-106kpa |
|  Power |  100-240Vac/ 50HZ |  Ultrasound Voltage |  ≤35W |
|  Ultrasound operating frequency |  1.05MHZ±10% |  Beam style |  Straight |
|  Temperature of Probe |  ≤50℃ |  Output power |  ≤3w/cm2 |
|  Ultrasound output |  5.0w |  Non-uniform beam coefficient |  6 |
Data as follows
 Working status
 Gear
 Effective ultrasound
(W/CM2)
 Pulse duration
(unit:ms)
M1
1
0.8
2
M2
2
1.2
4
M3
3
1.6
6
M4
4
2.0
8
M5
5
2.5
…