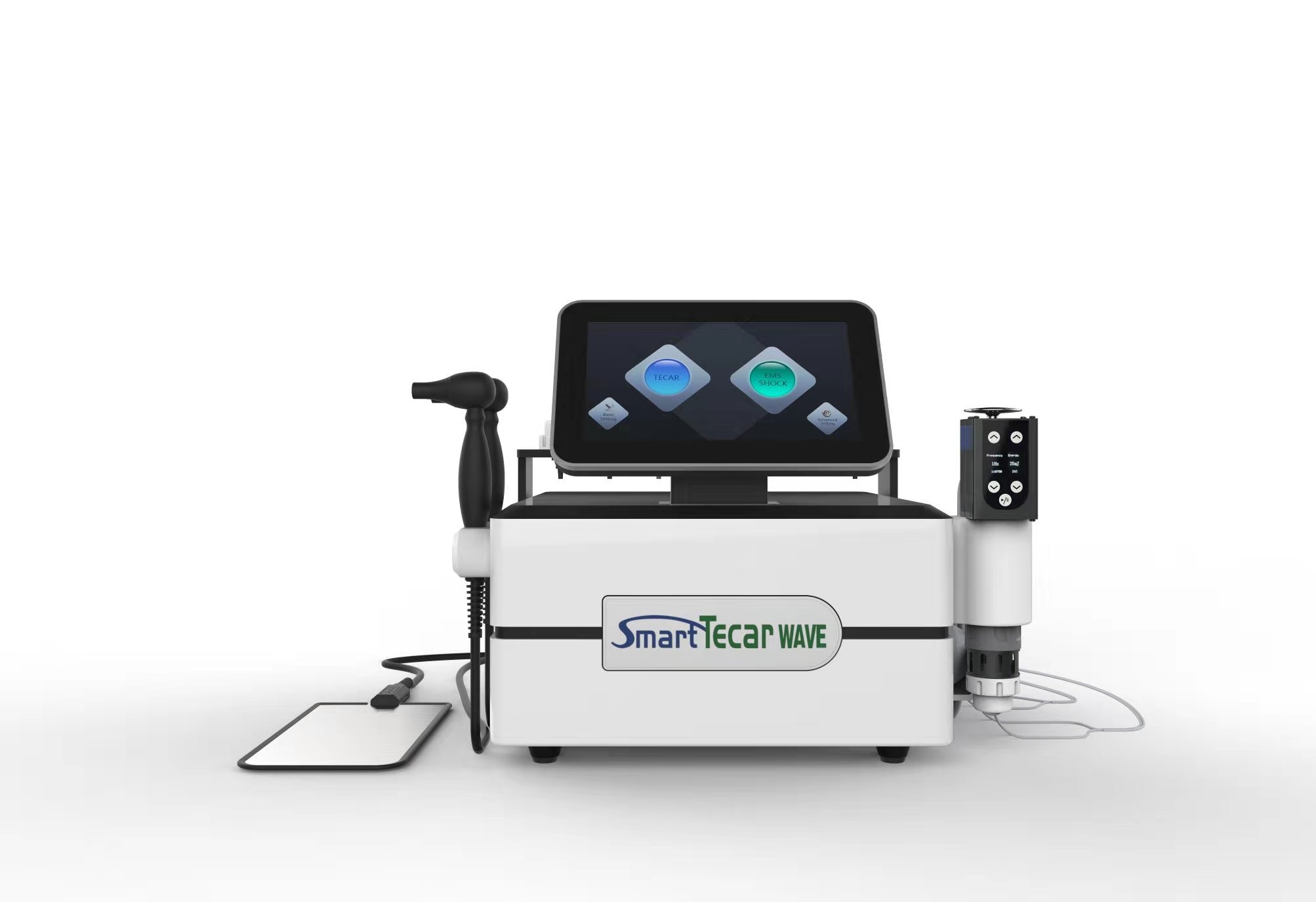 Smart tecar therapy machine

RF frequency 

Heads size

physical therapy, pain relief

Product functions:
1.Physical therapy Orthopaedic disorders of the peripheral nervous system, Pelvic floor rehabilitation, Breast hyperplasia/nodules, Prevent palace cold, stomach cold, cold hands and feet phenomenon
2. Pain Management: Treating injuries of knee, shoulder, hip, ankle, spine, hands and muscles..
3. Rehabilitation: To speed up muscle recovery and help athletes recover as soon as possible.
4. Decrease abdominal and body fat
5. ED treatment (shock wave)
6. Muscle growth and strength training post-exercise recovery (EMS)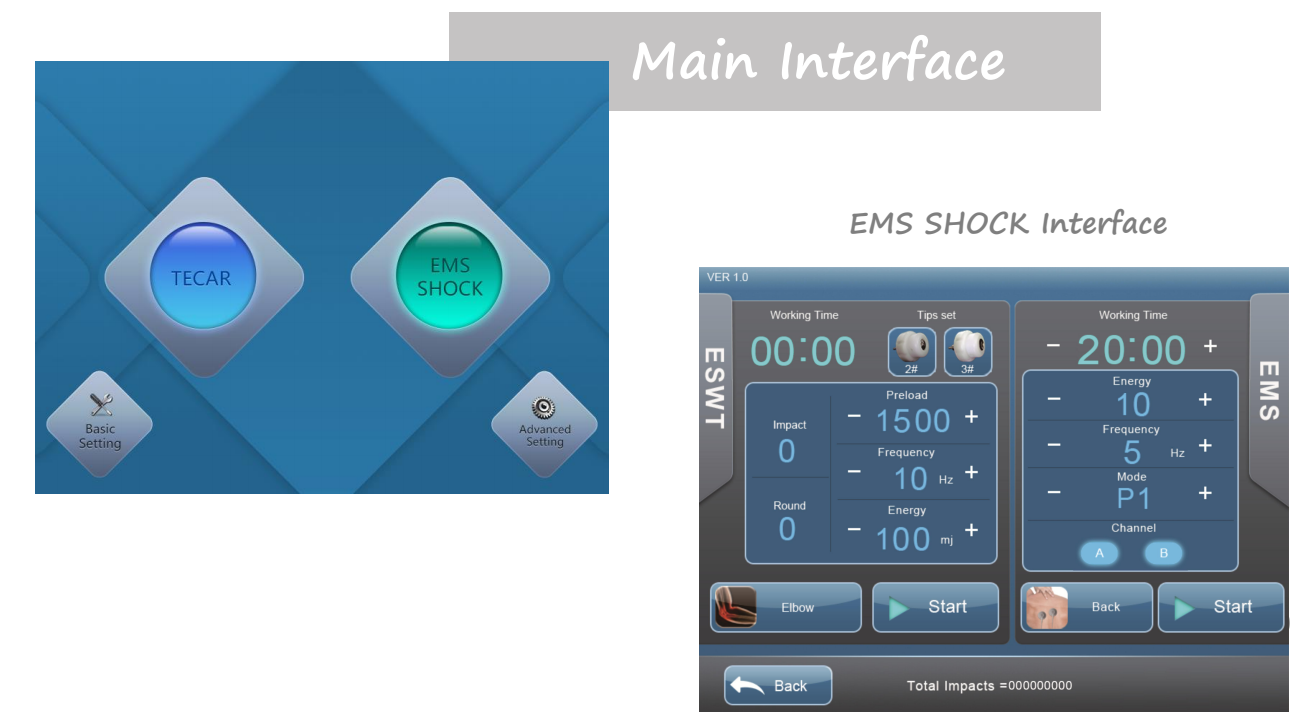 1.What is Tecar?
1. Tecar Therapy is a form of thermotherapy (it heals your body by creating heat inside it) based on radio waves. It is also known as capacitive and resistive electrical transfer. Other types of laser therapy include TENS and PEMF, which use different wavelengths.
2. We choose the Tecar therapy as advanced physo care because its effectiveness. It is also popular with
athletes and many of our patients are professional or amateur athletes.


CET RF
Capacitive Electric Transfer (CET) is a method that allows the RF electrical current to be transferred "by capacity" (principle of the electrical capacitor) to the patient's body via a moveable external application electrode. This is covered with an insulating film which acts as dielectric and the body acts as a second plate of the capacitor. A return plate closes the circuit. The electric circulation through the resistive medium formed by the live tissues increases its temperature.

RET RF
Thermal energy RET wave can penetrate directly into the deep subcutaneous adipose tissue (DSA) to a depth of 1-6 cm and generate energy with the help of skin-formed impedance.
Meanwhile, RET wave can make molecular cell to generate strong rotating resonant (24 million and 500 thousand times per second),which causes intense collision among cells and makes the fat cells explode instantaneously when the nuclear magnetic vibrations frequency reach the highest range. It reaches a body sculpting result by heating the deep fat layer then liquifying fat, accelerating the cycle of the deep layer blood capillary and lymphatic tissue and excreting the melted fat by the body's natural metabolism.


Tecar Therapy with terapia tecar pain relief physio:
The Endogenous Thermotherapy based on the principle of capacitive and resistive energy transfer (Capacitive-Resistive Diathermy) has an effect within the biological tissues, activating the body's natural repairing and anti-inflammatory processes from within.
Tecar Therapy is a physical therapy that is part of the endogenous thermotherapy. It is able to significantly reduce recovery and rehabilitation time by stimulating the activation of all the body's natural repair processes. All of the results are thanks to the application of radiofrequency current that causes a thermal reaction in the tissues that stimulates the body's natural healing response with immediate anti-inflammatory and analgesic effects on muscles, tendons, cartilage or bones ligaments. The two systems, capacitive and resistive, allow the operator to easily adjust the therapy according to the type of pathology. Capacitive system transfer for tissues with high water content (muscles), while resistive system transfer for tissues with the highest resistance and low water content (bones, tendons, adipose tissues).
2.What is EMS ?
"Electrical Muscle Stimulation" is an internationally accepted and proven way of treating muscular injuries. It works by sending electronic pulses to the muscle needing treatment; this causes the muscle to exercise passively. When the muscle receives this signal, it contracts as if the brain has sent the signal itself. As the signal strength increases, the muscle flexes as in physical exercise.


3.What is Shock wave ?
Shockwave is an acoustic wave which carries high energy to painful areas and soft tissues with subacute, subchronic and chronic conditions. This energy promotes healing, regenerating and reparative processes. It's a unique, noninvasive solution for pain associated with the musculoskeletal system. Three to four treatments needed at weekly intervals only. A therapy session only takes approximately 10 minutes. Shockwave also works for the stubborn fat and cellulite.