Product Description
The shockwave system uses the ballistic principle of shockwave generation: A pressure wave is formed via a projectile by using accelerated compressed air. The compressed air is generated by an electronically-controlled ballistic-pressure compressor. Using elastic impact, the kinetic energy of the projectile is transferred into the probe of the applicator and then into the client's body. Consequently, during the treatment, the end of the applicator must be in direct contact with the skin and subcutaneous tissue.
Shockwave is aimed at the affected areas that are the source of chronic pain.
The influence of the shockwaves causes the dissolution of calcium deposits and leads to better vascularization.
| | |
| --- | --- |
| Technology | Shock wave |
| Operating mode | Continuous/4/8/16 pulses |
| Power Levels / Energy | 60 to 185 mJ(equivalent to 1.0bar-4.0 bar) |
| Frequencies | 1-21Hz |
| Suggestion for treatment parts | Exceeds 25 preset treatment suggestion |
| Power | 282VA |
| Dimensions | 52.5X53X95.5 CM(L/W/H) |
| Weight | 23 kg (device only) |
| Power supply | AC100V-110V/AC220V-230V,50Hz/60Hz |
The after-effect is relief from the pain.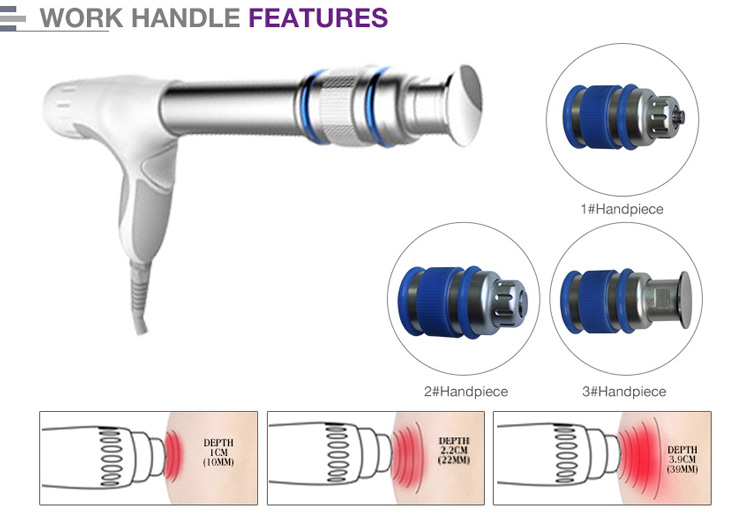 Shockwave Features
1. The human engineering design provides setting and operates conveniently;
2. Colored Spanish and English touch screen design, intuitive and clear;
3. Import power source, to ensure instant shock output effect;
4. Surge pressure and frequency selection, conformed to treatment demand;
5. The air compressor is built-in accessories collection box;
6. Single or dual output is optional, and provides various professional probes;
7. Adopt portable design with a stand for choice
Shockwave Advantages:
1. High effectiveness, relieve pain fast.
2. Noninvasive, no anesthetic, convenient and fast
3. Each nursing only 20 minutes, 5-10 nursing each session.
4. Widely applied to different soft tissue treatments.
Shockwave has the following effects:
1. Cellular: Increase in cell membrane transmittance by improving ionic channels activity, stimulation of cell division, and stimulation of cellular cytokines production.
2. Reproduction of vessels in the area of tendons and muscles: Improvement of blood circulation, increase in concentration of growth factor beta 1 , chemotactic and mitogenic effect on osteoblasts.
3. Effect on nitrogen oxide system: Bone healing and remodelling.
4. Improvement of mocro-circulation and metabolism.
5. Dissolution of calcified fibroblasts.
6. Supports the production of collagen.
7. Reduction in tissue tension.
8. Analgesic effect.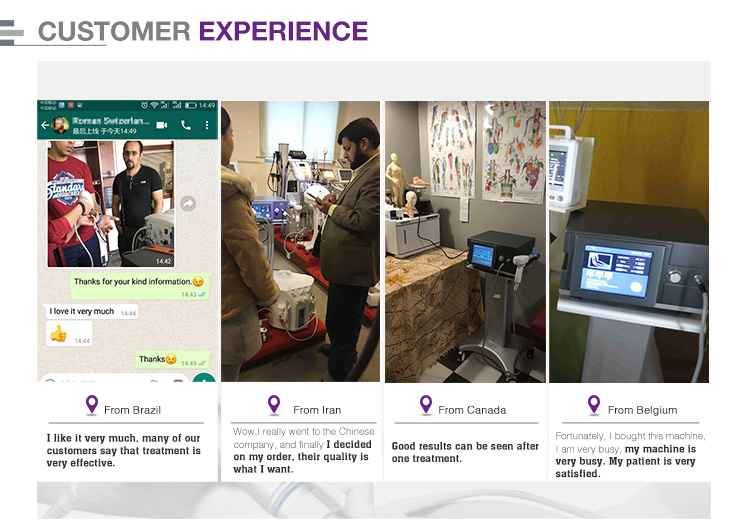 Our products  are  approved by  CE and ROHS, and have been exported to the United Kingdom, Germany, the United States, Australia, Japan etc,. More than 30 countries and regions are widely acclaimed.