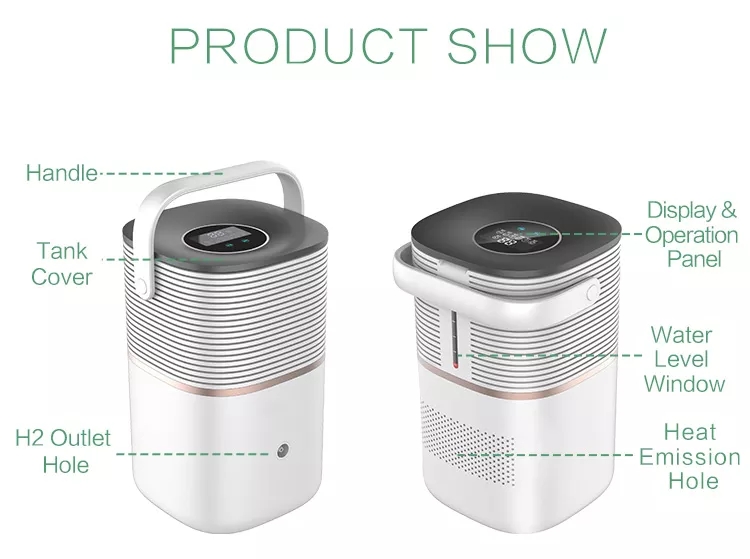 Function
1, Hydrogen yield 99.996%, high purity of inhaled hydrogen.
2. H2 flow rate is 120mL /min, and output pressure is stable. Water tank built-in TDS water quality detection function, water quality in the tank for timely monitoring.
3. With anti-tilt, overheating, overpressure, overcurrent and other intelligent safety protection functions.
Benefits of hydrogen absorption
1. Hydrogen has selective antioxidant properties. In addition to selective antioxidation, hydrogen also has therapeutic effects on oxidative damage, inflammatory response, apoptosis and abnormal angiogenesis in various diseases.
2. Hydrogen has therapeutic effects on central nervous system diseases. Since the biological effect of hydrogen was discovered, hydrogen has obvious protective effect on central nervous system diseases and dysfunction represented by cerebrovascular diseases and senile dementia.
3. Hydrogen has a therapeutic effect on cerebrovascular diseases. Breathing hydrogen has an ideal therapeutic effect on ischemic hypoxic brain injury caused by neonatal asphyxia. It was found that hydrogen can inhibit the activity of apoptotic enzymes in nerve cells after ischemic hypoxic brain injury. Thus reducing brain damage and preserving brain function into adulthood.
4. Hydrogen has therapeutic effects on neurodegenerative diseases. Parkinson's disease is caused by the death of dopamine neurons in the substantia nigra of the brainstem nucleus and is often a secondary manifestation of many other neurodegenerative diseases such as Alzheimer's disease.